by Hank.
Greetings and salutations!
Lot's to talk about! MEECAS was a very cool event and I'm looking forward to next years. Oh, before I forget Happy Thanksgiving! Let's get going…
Selected Video.
Part 1 of 3 – Harry Partch and his Strange Musical Instruments
[youtube]http://www.youtube.com/watch?v=m8unoRnzcPE[/youtube]
Score V1.0!
Stupid cheap 1/8" x 6 ft. male-to-male patch cords. Like $0.60 each cheap! Other lengths available as well, look in left hand column. Cheap enough to snip one end off and make them into piezo leads.
http://www.deepsurplus.com/6ft-3-5MM-Mono-Male-to-Male-Audio-Patch-Cord-Black
Score V2.0!
Though I understand this was already covered at GetLoFi I had not heard about this so…$2 Saw 30 sec. Sound recorder: http://www.allelectronics.com/make-a-store/item/SAW-3/SAW-3-DIGITAL-VOICE-RECORDER/1.html and a pro-fes-ional set of bending instructions: http://handmademusic.noisepages.com/files/2010/07/saw-recorder-bend-hma10.pdf (Thanks to Tim T. @ phasor~ g.group for pointing this out.)
Spirit Halloween Voice Disguiser Update.
Remember my previous column about the Spirit Halloween Voice Disguiser? Well one of my readers, Dave, took this and ran with it! From Dave:
"1/4″ audio in/out, pitch control, only what I can describe as a low pass filter-type effect, a flange-like effect (these are just descriptions, not technically what is taking place). And of course when you switch to different preset voices, the bends change. Beats are awesome through this thing. I utilized the resistors that I pointed out as well as a starve 10k pot to achieve some of the effects."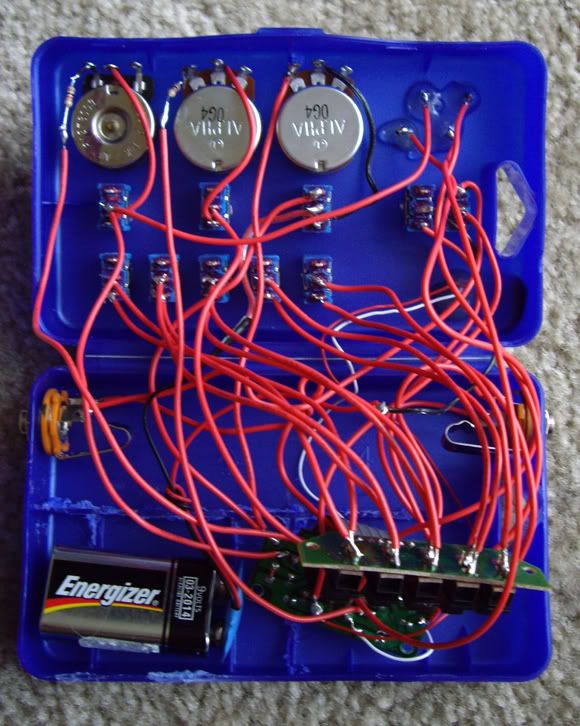 Movin' pic-turs with sound!
[youtube]http://www.youtube.com/watch?v=E8Y_0yV-yK4[/youtube]
Well done Dave! And all crammed in a wart freezing kit storage box of all things! Dave will entertain questions regarding this project at davidhills at g mail.
Behringer FX600 Pedal Mini Review.
The instruction sheet says it better than I can: "This ultimate digital multi-effects pedal delivers 24-bit high resolution stereo effects including Flanger, Chorus, Phaser, Delay, Tremelo, and Pitch Shifter." No too bad for something that costs $30 (Amazon.com with free shipping) and fits in the palm of your hand. One particularly strong point is, with the stereo I/O jacks, the output can be looped back through the other channel to increase effect durations and overall sound mods. Downsides? Effect selection control labels are cramped and hard to read and it eats 9 volt batteries like mad. Buy the power adapter or make a regulated one yourself.

So just what do all these effects actually affect? The instruction sheet also provides a good primer:
Chorus: This effect slightly detunes the original signal. A very pleasant detune effect is created in connection with the pitch variation.
Flanger: Originally, the flanger effect was generated with two tape recorders running synchronously. The same audio signal was recorded on both machines. If you put a finger on the left spool of one of the machines, the spool and the playback speed are slowed down. The generated delay results in phase shifting of the signals.
Phaser: With the phaser, a second, phase shifted signal is added to the original audio signal. The resulting sound is thicker and above all livelier.
Pitch Shifter: The pitch shifter slightly detunes the audio signal.
Tremolo: The tremolo effect is achieved by periodic modulation of the input signal level. This results in a continuous change from low to high that lends a quivering, tremulous sound character.
Delay: A delay of the input signal with various repetitions.
Get it on Amazon for only $37!
Bridge Music.
What do you get when you attach a bunch of contact mics to NYC's Hudson Bridge, proceed to pound on said bridge with mallets, sample and edit the result? Bridge Music! http://amc.net/library/composition.aspx?CompositionID=343961 (Click on any of the file "MP3" icons and a pop-up window with a strange little player appears. Check 'continuous' to play all files in sequence.)
Question?
After listening to Bridge Music what other structures could be mic'ed and how different would the results be?
10 Questions With…
I met Adamon at MEECAS and was immediately impressed with both him and his gear. You can see and hear his uberneat gear in action at the following sites:
Marsynth on Youtube: http://www.youtube.com/user/marsynth
Marsynth on Flickr: http://www.flickr.com/photos/marsynth
Adamon on Soundcloud (my solo performance): http://soundcloud.com/adamon
Tensor Sensellation on Soundcloud (my duo performance): http://soundcloud.com/tensor-sensellation
Name: Adamon
Age: 26
Hometown: Lawrence KS
Years Performing Music: Lets say 2 (Does high school marching band count? If so then like 6…)
Q1: In you own words describe the type of music you make.
A1: Boiling it down to one word, I would say ambient. Boiling it down to a sentence, I wouldn't know what to say really.  I play (and listen) to a little bit of everything, although recently, I've been doing a lot more dark ambient/drone type stuff.  I've had an addiction to modulated timbre for the past year or so, and it lends itself well to long, drawn out, darker pieces. I enjoy chopped up, noisy, buggy sounds as well, and I've always got a little bit of that going on as well.
Q2: Would you say your music is more bent circuitry/homemade stuff or conventional instruments played/processed unconventionally?
A2: Definitely a mix of both; I rarely use just one or the other.  When I'm playing or performing, there's no dividing line in my head that says certain gear has to be used together or at a certain time; its all just about whats happening in the moment and where I want it to go.
Q3: Any influences that guide you what you build or how you play?
A3: As far as building is concerned, most of my influences come from people doing similar things to what I'm trying to do with marsynth: Tom B at Bugbrand, the Dewan brothers (Dewanatron), the guys at Folktek, Tim Kaiser, and others. I'm influenced by plenty of what I would call more "commercial" sources as well: Tony R of Makenoise, Gur M at Tiptop, and the common big names like Moog and Buchla for sure too.  As far as playing, I'm usually just influenced by whatever I'm currently listening to.
Q4: Do you have any formal music or tech based education?
A4: Yes and yes.  I had piano lessons when I was young, played trumpet through junior high and high school in band, and have been playing music on my own in various forms since then. No formal music training since high school though.  As far as the tech stuff goes, I have a BS in mechanical engineering (KU 2007) and am currently working on my MS in mechanical engineering as well (also at KU).  My background in electronics has stemmed from what I had as an ME undergrad and the rest has been all self taught.
Q5: Is there a DIY music scene in your hometown?
A5: There's a little bit of a scene here, although its really kind of hard to tell.  I'm constantly running into people in the area that are doing things on their own with circuit bending, or building their own instruments, or just playing really weird stuff, but there really isn't any mechanism in place currently to bring them all together.  I was in Chicago a few weeks back for the MEECAS event put on by the guys from Roth Mobot, and I talked with one of them, Patrick, about this a bit.  I was really impressed with the weekly event that he had organized there, and I mentioned I'd like to try and get something going around here as well. I've got a lot of motivation right now though, so hopefully I can get something going soon.
Q6: What is your favorite DIY instrument that you own or have played and why?
A6: That's a tough call; it's hard for me to play favorites. I built a grid sequencer over the summer that I was pretty proud of; it was inspired by the Rene sequencer that Tony from Makenoise came up with.  Its basically a 4×4 grid that takes two clock inputs and combines them to determine the x-y location in the grid.  It has eight outputs: four rows and four columns, and basically generates a bunch of control signal patterns and sequences.  There' a bunch of information about it floating around in the eletro-music.com diy forums if anyone's interested.
Q7: Any unusual sources for parts and gear that you want to share with us?
A7: I don't really use any thing too fancy part-wise in my stuff.  I suppose the most unusual parts of my creations are the enclosures.  I routinely visit all of the antique malls and thrift stores around here (or where ever I am) and keep them in short supply of things like old metal tins, cigar boxes, tool boxes, and other weird enclosure-like things.
Q8: Name five of your favorite bands.
A8: Again, its really hard for me to play favorites here… this would probably have to the hardest thing for me to come up with.  I often listen to new music only for months at a time, without re-listening to any one song more than just a few times.  For the sake of the question, I'll just name five groups or individuals that I've listened to in the past few days:  AO, Lezrod, the Astro Boy, blindoldfreak (Alessandro Cortini), and Morton Subotnick (I am comfortable saying Subotnick is definitely an all time favorite).  (check out testtubenetlabel for the first three)
Q9: If you could have one piece of music gear [DIY or COTS] what would it be?
A9: That's a tough one.  I am completely obsessed with everything buchla, so I'd be lying if I didn't say a 200e system (or a 200 for that matter).  But I've always really been into Dewanatron's stuff like dual primate console, so I'd take one of those for sure if it had to be a more diy-esque thing.
Q10: Any ideas how benders/DIY music makers can get a wide audience? Do we want to?
A10: Get out and start playing and meeting people; that's what I'm doing right now, and coincidentally, that's how I got this interview!  Circuit bending and diy instrument stuff is no different than any other art form, you just have to make yourself be seen and be heard.  Definitely support others who are doing things that you are into as well; we can all help each other out.  One other thing that I would say based off of personal experience is that the internet will not give you everything you need to succeed, whether that's a large audience, or more sales, or whatever you measure of it is: going out to new places and talking with people face to face makes a huge difference.  That's not to say that the internet isn't an amazing tool that allows for so much communication; I'd truly be lost without it (sad to say), but the in-person stuff really goes a long way.  Plus its just fun to travel and see new things anyways!
Yabba Dabba PVC?
[youtube]http://www.youtube.com/watch?v=TyY9t9kVnno&feature=related[/youtube]
The Original, Low-Budget Harpejji Demo Video
[youtube]http://www.youtube.com/watch?v=liGDMa0PNgc&feature=related[/youtube]
Delia Derbyshire – Ziwzih Ziwzih OO-OO-OO
If you watch Dr. Who you've heard her work. Thanks to Will S. for posting this on Facebook.
[youtube]http://www.youtube.com/watch?v=jetzY-W78gg[/youtube]